Social media marketing has transformed how local businesses conduct, well, business. Platforms like Facebook and Instagram give you the ability to engage with current customers, grow the interest of potential shoppers, and connect with people who are simply scrolling through their newsfeeds.
A social media business page is an easy, quick, and affordable way to make announcements about sales, promotions, rebates, new products, and services; showcase your work and capabilities, and promote events. The best part? You don't have to be a social media marketing guru to make the most of it—and we will tell you how.
It's Not Personal—It's Business
You may have chosen not to participate in social media on a personal level, but it would be a big mistake to make that choice for your business. People have increasingly turned to social media to search for businesses, online reviews, and service recommendations. By not having a social media presence for your business, you are effectively removing yourself from those conversations and the revenue they might produce. You should always have a sign on your store, right? Not having a social media presence is the digital equivalent.
Know Your Market
Social media marketing for a local business is far different from that of big national brands. While their pages are designed to generate likes and shares, you're looking for message conversions and local foot traffic that lead to sales. When you understand where to put your focus, what to post, and how to measure results becomes much easier.
Tell and Sell
For local brick-and-mortar businesses, the key to mastering social media is creating content that does more than just build awareness. While explaining what you do and why you do it is important, you want to focus on sharing content that can spike conversations that lead to sales, whether that's about products, services, or news relevant to your industry.
This is the discovery element: helping people discover the products and services you offer that people didn't know they needed, such as those that solve a problem or are available for a surprising value. Only you know what your unique discovery elements are, but your task is to use social media to get people to message you, call you, and come into your business to learn more about them—and ultimately buy.
6 BEs for Social Media Success
Be consistent. Posting consistently helps grow engagement and gives your page an active "look" that people are more likely to trust. Pages that never get updated can look a little sketchy—especially next to competing pages that maintain an active, vibrant community. Repetition also helps generate greater brand awareness in the minds of your customers and prospects. Ideally, your business should post at least three times a week. If you need some quick-and-easy content, we've got you covered with ReadyPosts.
Be a guide. Social media can help people discover products—particularly those you sell that they might not see during their normal shopping activities. As you conduct your social media, be the guide that helps people discover the products and solutions you offer.
Be responsive. Every business owner has too much to do; however, being responsive to social media comments and messages is important. It can not only help generate new customers but also nurture existing relationships. While you may not be able to respond immediately—which would be ideal—you should plan to respond at least three times a day, perhaps in the early morning, at lunchtime, and again at the end of the day. Facebook lets you set up Instant Replies, which are a great way to quickly acknowledge messages—even if you can't personally reply right away. Learn more about setting up these automatic responses here.
Be relatable. Part of the social media game is learning how to build relationships with your audience. (Remember, your audience consists of both existing and potential customers.) To be relatable, you can engage with individuals who comment on photos, offer exclusive discounts to social media followers, or even provide other incentives (like personalized quotes). Posts that show off your products in lifestyle use or photos of projects you have worked on are also very relatable. Once you know what content is most relatable to your audience, you can focus on building calls to action into your posts, like encouraging messages and phone calls.
Be informed. It can feel like a lot to keep up with (trust us, we don't like it any more than you do), but it's important to stay current on social media trends in general and changes to the platforms you use in particular. Social media is always evolving, so content that once returned positive results might eventually become ineffective. To help you stay up to speed, consider subscribing to emails from companies like Marketo or Social Media Examiner, which highlight big changes and provide helpful tips for generating effective content.
Be deliberate. Social media marketing is like any other type of marketing—it should deliver results for your business. Set goals for your social media efforts and measure the results. Monitor the number of messages, phone calls, store visits, and sales you make from each post, especially boosted posts. You must understand what you want your social media efforts to accomplish. Learn what your audience responds to, and don't get trapped into posting for likes and comments alone. This is where monitoring analytics and considering customer feedback really pays off.
Focus on the Small Picture
Forget for a moment that there are more than 2.4 billion Facebook users and 1 billion Instagram users. Or that there are 60 million active Facebook business pages and 25 million on Instagram. When it comes to achieving success for your small business using social media, think local…think small! Social media platforms are among the best marketing options available because they can target a specific geographical area and other factors like gender, age, interests, and more. You're not trying to reach every user on Facebook or Instagram, so don't get overwhelmed by the scope of these platforms.
Organic vs. Paid Marketing
Fancy marketing words aside, the main difference is simple: organic marketing requires an investment of only time (no ad spend) to get users to come to you, while paid marketing requires a monetary investment (ad spend) but promises to deliver quicker results. It can be beneficial to mix both approaches, and there are positives and negatives to each.
Organic marketing is free. Just remember that it can take a lot of time and work to generate growth and response, so be patient! The best way to grow organically is to consistently make social media posts (and blog posts if you have a website); a scheduling program or content calendar can help keep you on track. Organic posts should engage your community and educate them about your services, offerings, and even news of shared interest.
Be careful not to make every post a sales pitch. Doing so can erode the connection you've so carefully built with your customers or keep customers away altogether. Research shows that consumers are more than 130% more likely to buy after engaging with content that is educational or that focuses on a shared interest.
The organic approach will take longer, and it requires commitment, but it's free and can help you create authentic relationships with your followers that can potentially blossom into sales.
Paid marketing, like boosting a post on Facebook, can deliver much quicker results. While quicker results sure sound appealing, there are some caveats to keep in mind. You don't want to overwhelm your audience with ad-centric content, and you don't want to spend a fortune without a good return on your investment (ROI). So how do you decide when to spend a few dollars?
For instance, say you're running a promotion at your store for 25% off light bar installations through the end of the month. Using organic marketing, you posted a photo with a witty caption communicating the sale; unfortunately, it's reached only 100 people who like your page, and no one has called or messaged wanting a quote. Bummer.
This is a time when putting even $20 behind a boosted Facebook post for a week (about $3 a day) can help get your message out there and generate targeted results. Based on Facebook costs today, you can reach thousands of potential customers with just $20. (It all depends on how you build and frame your ads or boosted posts, but we will get to that in a moment!)
One sale might easily justify the investment of a $20 boosted post or ad. Just keep track of how those ads perform (total amount spent vs. engagement and revenue generated) to help guide future spending decisions.
Boosting a post is a simple and easy way to reach a specific local audience. Below you'll find an example of a local ad we created and how it performed.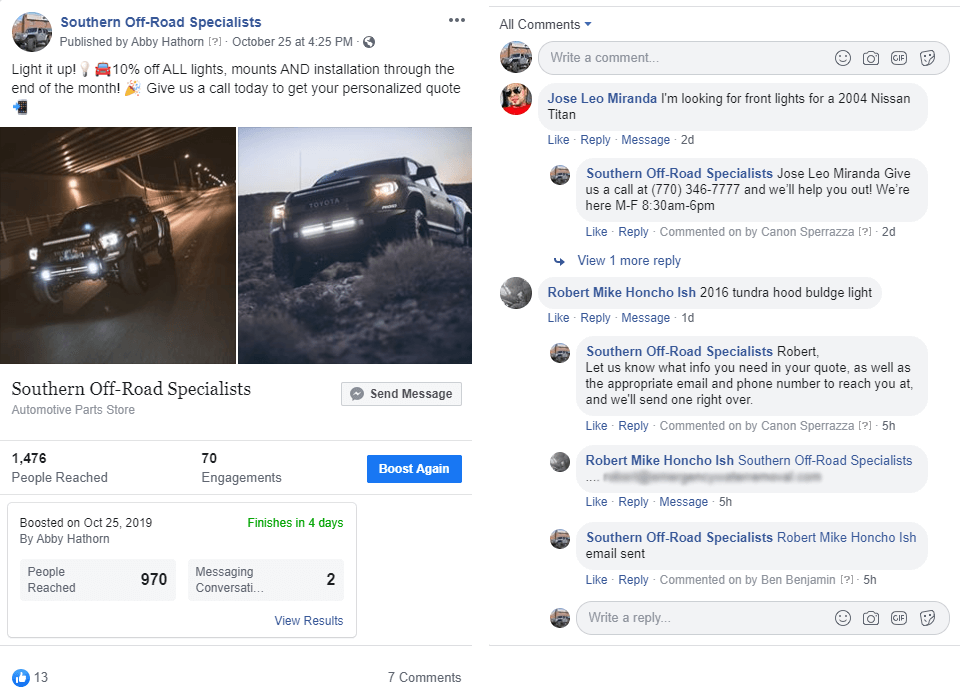 How to Create a Facebook Business Page
Sign up. Go to Facebook.com/business/pages and click "Create a Page." Choose the "Business or Brand" option and follow the prompts; it takes only a few minutes. As a bonus, Facebook offers free educational information you can use to become a pro.
Add profile and cover pictures. An easy profile picture is your business logo. Your cover photo should be engaging and eye-catching, but make sure it's yours!
Create a username. A username appears at the end of your page URL and is how people find you on Facebook or connect on Facebook Messenger. It will usually be your business name or a variation of it (e.g., Facebook.com/lockedandlifted).
Complete ALL of the "About" section. It's important to fill out all fields in your business' "About" section because this is often the first place potential customers go for more information. Enter your phone number, website URL (if any), hours of operation, and any other information that might be useful. One or two sentences are all you need to describe your business and its products or services to start. Expand it later if you want to, but don't let writer's block derail the creation of your page.
How to Create an Instagram Business Page
Note: Before you get started creating your Instagram business page, you should know that you'll need a Facebook page to sync it with. We recommend syncing your Facebook Business page because all the pertinent information will already be there, so be sure you complete that process first (as described above). You'll have to be the admin for that page to complete this step.
Download the app. It is available for smartphones and tablets (App Store for iOS, Play Store for Android) and computers (sign up at Instagram.com). For ease of use, we suggest using a smartphone or tablet.
Create an account. If you already have a Facebook account, you can log in with the same credentials; the accounts will then sync. If you don't, you can sign up from scratch with your email address or phone number and then enter a username.
Set up a business profile. Once you've created or synced an account, your profile is set to personal by default. To make it a business profile, go to Settings > Account and tap "Switch to Professional Account." Choose a Facebook page to link it to (if prompted) and make sure to set the page to public.
Finish your profile. Add a short description about your business and services. With a business profile, you must fill in at least one contact field, such as phone number, email, and so on.
The Why and How of Creating a Google My Business Profile
Google handles more than 63,000 searches per second. For those of you counting, that's more than 2 trillion (yes, with a "t") searches per year. For that reason alone, you'll want to claim your Google My Business listing and actively manage the information there, including hours of operation, photos, customer reviews, and more.
Ready to get started? Visit google.com/business and click the blue "Manage now" button.
Additional Resources
Other articles about social media marketing and small businesses: