We build websites that get you found.
It's time to stop playing hide and seek with your customers. When it comes to getting more door swings, there's no better tool than a custom automotive website. Aftermarket Websites® creates personalized sites that point shoppers to their local authority in the automotive aftermarket (that's you).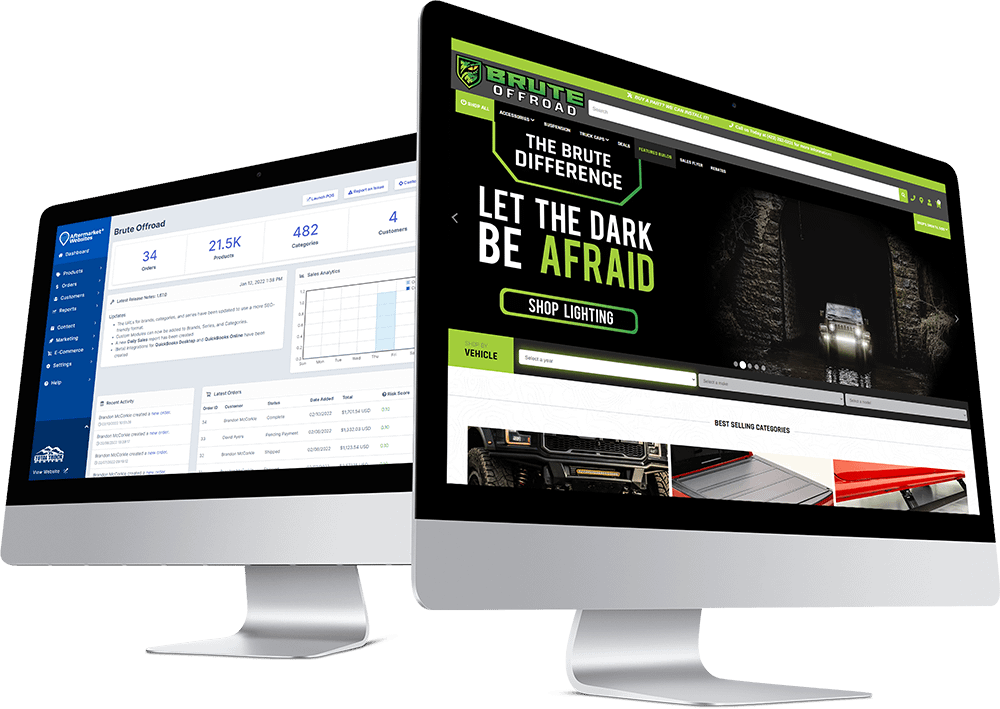 Access to Over 500 Industry Leading Brands
TONS of Product Data Easily Managed with Automatic Updates
Your site needs a broad assortment of accessories and performance parts to be effective, but who has time to manage thousands of SKUs? Aftermarket Websites® gives you access to hundreds of thousands of products, which you can upload to your site with just a few clicks! We will even automatically update that data for you to keep your site's product selection current. Aftermarket Websites® is directly supported by more than 150 of the biggest manufacturers in the industry.
350+
Non-Supporting Brands
100M+
Product Applications
Your Local SEO Experts
Your search is over but theirs is just beginning.
Try searching for your business online. Go ahead, we'll wait. If you don't have a website, chances are you'll be hard to find. Aftermarket Websites® automatically fills your site with the products and categories you sell, so when a local shopper searches for those keywords, your business will show up at the top of the search results.
Buy Online - Pick Up From Store
Our websites enable you to integrate with the industry-leading payment and shipping providers. We have also partnered with PayJunction to bring you Aftermarket Payments™, the best card processing solution in the industry.
What Our Customers Are Saying
"Aftermarket Websites® has lots of features ready-made for automotive outfitters. It's good to be working with people who are familiar with the peculiar needs and brands of automotive accessories stores versus 'normal' website people who treat everything automotive like a dealership or a mechanic shop."
Troy Phagan
Owner, CRP 4×4 Truck Outfitters
"My old website was too much work to keep up with all the data and I didn't have time. It's impossible to keep up with all the products out there and have the Year/Make/Model search. We use our Aftermarket Websites® site to push more foot traffic to the store with the Pickup-From-Store option."
Chuck Morrison
Owner, Truck'n America
"Aftermarket Websites® brings us to life as a 24/7 operation. Aftermarket Websites® is built by the industry, for the industry. Other platforms don't have the data, the intelligence, or the support network we have with The AAM Group. The brand support, recognition, and data are just incredible."
Elden Suppinger
Manager, Jordan Camper
Personalized support means no guesswork.
It is our goal to partner with you to help you succeed. That's why the Aftermarket Websites® support team is available to assist you with anything you need regarding your website. Whether you have a base-level site or you go PRO, your questions and concerns receive the same level of attention and priority. Even if it's after hours, we have developed a comprehensive knowledge base so you can still find the answers you're looking for at your own pace.
Stay in the Fast Lane
Your business doesn't slow down for anyone, and we design our sites to keep pace. The Aftermarket Websites® team is constantly rolling out new features to keep your shop ahead of the pack. Click the button to check out our latest updates! Have a suggestion? Let us know how we can make a better product for you!
Ready to take a test drive? Get started today!