In our last article, we discussed why Google My Business was important and how business owners could claim their listings to figure into their local search conversations more prominently. We also mentioned how Google Reviews have become a vital component of online search rankings and building brand trust. Today we're going to dive a bit further into the topic of Google Reviews, including how to effectively solicit reviews from your customers and stay on top of them to manage your business's online reputation.
The Court of Public Opinion
Think back to the last time you searched online for a local product or service. Assuming you weren't familiar with any of the businesses Google presented to you, how did you decide which to contact? If you said, "the reviews," you aren't alone. Nearly 88% of consumers read reviews before committing to a new business. A full 72% of them say that positive reviews help create the confidence needed to commit to a visit or purchase. These increasingly discerning consumers have come to rely on the experiences of their peers to help guide their purchase decisions. Reviews improve brand exposure, indirectly communicate the types of products and services you offer, generate trust, and let you interact directly with customers.
All About the Algorithm
We've all heard about the mysterious Google search "algorithm," which factors in multiple criteria when deciding what results to show you in your local Web searches. One of those criteria is Google Reviews, which informs nearly 10% of the process and has now surpassed all other review platforms, including Yelp and Facebook. Obviously, if we're concerned with our business getting found online—especially showing up in the local map pack and getting chosen from among the choices there—we need to pay attention to reviews.
Stake Your Claim
Before you can engage some of the suggestions in this article (e.g., creating review links and review management), you must have claimed your Google My Business listing. The article referenced above walks you through that process, so that's where you need to start if you haven't already.
Asking for Reviews
One of the best parts about reviews is that, unlike email and social media, they largely require someone else's initiative. Unfortunately, that's also the challenge: how do you get your customers to review your business? Though it's against Google's guidelines to offer incentives for reviews, you can always simply ask your customers to do so.
Asking a customer to review your business might seem an awkward proposition, but you can create organic moments to work the request into conversations. After a positive interaction, something as simple as, "I'm so glad we could help you today. If you had a great experience, we'd appreciate it if you left us a review on Google—it really helps other people find us." Then make it easy for them to do just that. Giving customers a direct link to your Google My Business review form is the best way to generate positive action. Here's how:
Creating a Google Review Link
To generate a review link, follow these quick steps:
On a Computer
Sign in to Google My Business
Click "Home" in the left menu
Find the "Get more reviews" card and click "Share review form" to get the unique short URL for your business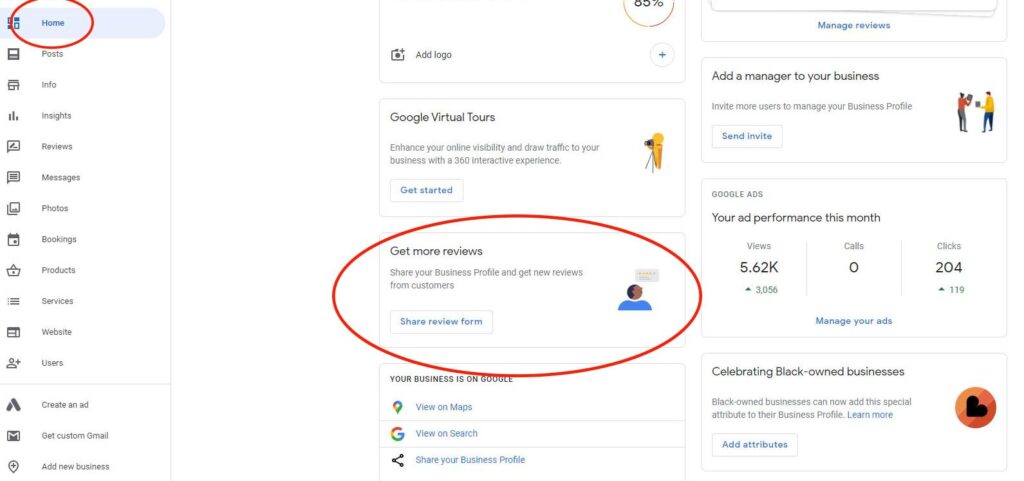 On Mobile
Open the Google My Business app
Go to the "Home" tab
Scroll down to the "Get more reviews" card and click "Share profile" to text the URL
Once you have the link, you can start including it everywhere you interface with your customers:
In a QR code at your point of sale
On social media
In your email signature
In satisfaction surveys
Printed on a review card you hand out or mail
Pro Tip: Emphasize how quick and easy it is to leave a review by reminding customers that they can leave a star rating without writing anything if they don't want to. You'll need four to five reviews with ratings to have your business's reviews show up in Google searches.
If you have a website, you can create an obvious call for reviews using a dedicated page or a widget that both makes it easy to leave a review and shows a rotating banner of existing reviews that can inspire consumer confidence. If you don't have a website, or don't have an effective website, the pros at Aftermarket Websites® can help you with all that and much more.
Managing Reviews
When you get a new review, Google My Business will notify you by email. You'll want to reserve some time to regularly monitor new reviews because engaging with reviews after you get them is almost as crucial as getting them in the first place. For example, you don't want a bad review sitting unaddressed for weeks or months creating a poor image for your livelihood.
Make it a point to respond to every review through Google My Business (here's a brief video tutorial). If positive, thank the customer. If negative, stay cool. Respond graciously at a minimum and invite the customer to continue the conversation privately to address whatever issues are at play, as appropriate. Whatever you do, don't publicly escalate a negative review; it will always make you look unprofessional to anyone paying attention—regardless of fault. Review content aside, your engagement demonstrates that you care about your customers' experiences and can dramatically boost public perception of your shop.
Pro Tip: When conversing in writing with a disgruntled customer, be aware that anything you say can reappear later in public. So, no matter how you might be feeling inside, don't write anything you wouldn't want another customer (or potential customer!) to see.
Finally, remember that reviews aren't just a way to help new customers find you or decide to choose you over a competitor. Critical feedback can provide invaluable insight into improving your services, policies, and general business practices.